This new Eats segment will focus on finding places to wind down after work and enjoy a drink with coworkers, friends or even a hot date. Every week, we'll be taking one for the team and hitting happy hour at a different Battery Park City watering hole. We'll report back on the quality of the venue's libations, the specialness of their specials and the tastiness of the food on which we nosh to prevent ourselves from descending into a stupor.
For our seminal happy hour, we headed to SouthWest NY, which, it ironically turns out, does not have any happy hour deals of which to speak. Still, now that the weather is warming up, the venue's waterside location in the World Financial Center Plaza and its bountiful outdoor seating make it an ideal place to grab a drink and watch the sun set.
I should warn you, however, that if you want a nice table in the outdoor section by the fountains, make reservations… or come with a small party and be prepared to wait. The service is also very slow, so waiting will be a general theme for your evening out. The drinks and the finger food, however, make it all quite worth it.
SouthWest NY's frozen margaritas ($9) come in nine different fruity varieties, plus one seasonal offering. Our waiter said that apple, the current seasonal flavor du jour, was not very good and that they were about to change it (honesty: we like it!). He recommended the passion fruit instead, which was very tropical and perfect for the weather. We also sampled a plain 'rita, which doesn't have any sugar in it, causing one of my drinking companions to comment that hers tasted like pure lemon juice. So take note: Beware the unflavored margaritas.
Another issue with their margaritas is that the fruit purees aren't thoroughly mixed into the flavored drinks. While this makes for a nicer presentation, the fruit purees freeze really quickly and do not become fully incorporated until the drink melts. So, to be on the safe side, you might want to give your cocktail a few stirs the moment you get it.
To help us soak up the alcohol, we ordered a plate of Mile High Cheese Fries ($9.89), SWNY Sliders ($11.29), and Beef Burrito Sliders ($11.49).
Their Mile High Cheese Fries are nothing out of the ordinary, although SouthWest does use seasoned fries, which was a nice touch. These need to be eaten quickly before the cheese hardens into a thick, oily, congealed mess, but they are the perfect adult beverage accompaniment.
The SWNY Sliders are absolutely scrumptious. They come with slices of pepperjack cheese, chipotle mayonnaise and tumbleweed onions. And when all of these flavors come together, it's like euphoria in your mouth. The patties are fall-apart rare and the buns super sweet, which made these sliders all the more sinful. In fact, the mere act of writing about these sliders is making me drool.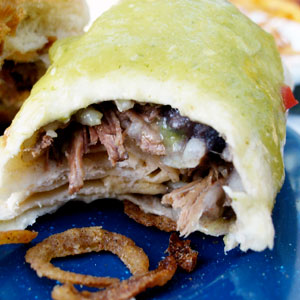 I wish I could say the same for their Beef Burrito Sliders. These mini burritos are really loosely packed, and half of the filling is plain rice and beans — making for a dish that lacks both flavor and substance. I would not order them again.
All in all, SouthWest NY would be a great place to start a girls' night out. The drinks are strong and refreshing, and the sliders are to die for!
SouthWest NY
225 Liberty St
2 World Financial Center
New York, NY 10281
(212) 945-0528