Petite Abeille is a quaint Belgian restaurant most known for its Mussels and Belgian Waffles.  With four Manhattan locations, no one can deny that this restaurant has outlived New York's Belgian food buzz, and their Tribeca location certainly does them justice.
If you choose to dine here, do yourself a favor and try a new beer- your waiter will definitely be able to find something you'll enjoy out of their 50 different Belgian beers.  All four of the beers our waiter recommended- from the strong and heavy Scaldis ($8.50) to the sweet and fruity Lindemans Framboise ($9.50)- were delightful and a great way to start the meal.  They also had the added benefit of enhancing our appetite which we were extremely grateful for later on in the evening!
The appetizer portion of the Moules Marinieres ($9.50) were more than enough for two people to share.  I could definitely see why their Wednesday night all you can eat specials are so popular; the mussels were fresh and not the least bit grainy, and the white wine broth was divine.  Petite Abeille also provides diners with deliciously crusty, chewy, and sour bread that's perfect for dipping into the broth.
For my main course, I got the Vol Au Vent, Frites ($18.50), which was basically a deconstructed pot pie with pommes frites on the side, definitely not a meal for the calorie cautious!  The pommes frites were kind of overkill, especially since they were soggy and undercooked.  The chicken, on the other hand, was slightly dry and overcooked, but the sinfully creamy gravy provided a great textural balance.  The deconstructed nature of the Vol Au Vent insured that the puff pastry stay puffy, and the bacon and mushrooms were a perfect addition to this indulgent meal.  If the chicken weren't so dry, this would definitely rank in my top 5 chicken pot pies.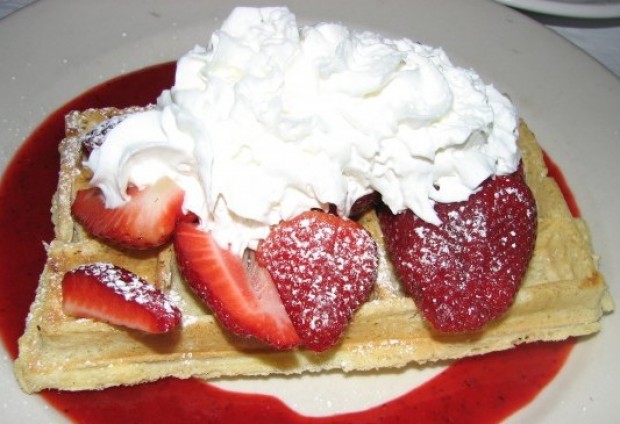 After that heavy dish, I definitely felt the need to unbutton my pants and call it a night, but I couldn't leave without trying the Belgian Waffles.  This was an instance in which the masses were correct: The Gaufre Chantilly ($7.00), or the waffle with whipped cream and strawberry sauce, was one of the best things I've ever eaten, and I don't even like waffles!  Actually, I don't particularly like waffles, whipped cream, or strawberry sauce, but together these three elements create perfection!
Even if you're not into mussels, please, take my advice and drop in for dessert, or try one of their tamer options like a burger or steak frites.  You won't be disappointed!