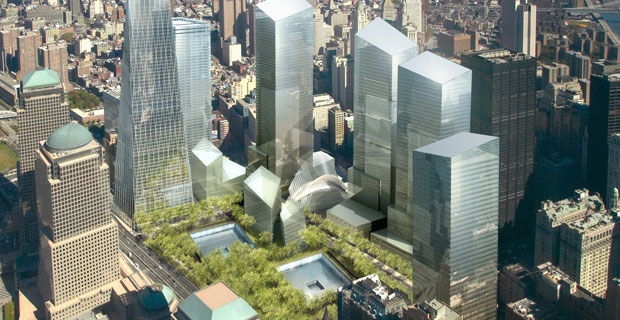 Although rebuilding efforts at the World Trade Center site look promising, the deals that are backing construction are tenuous as best, the New York Post is reporting this morning.
According to the article, "The Port Authority's 1 WTC is pushing skyward, and Larry Silverstein's 4 WTC should start major construction soon. The towers together would restore about half of the Twin Towers' 8.8 million square feet of office space."
However, two impending deals between Silverstein, Durst and the Port Authority could potentially fall through, leaving the World Trade Center site with just its memorial pool, empty space and a near empty office building.
Silverstein still needs to iron out details on converting nearly $1 billion in Liberty bonds into a construction loan. The funds, which are currently in escrow, must be converted soon if development is to be finished by 2013. Durst, who was just announced as the latest developer on the 1 WTC site, is still hammering out a deal which would ensure a partnership stake on his development.
Gee! We thought there was real no holds barred progress happening. To find out more about the intricacies of the details read the announcement here.
How do you feel about this? Does this surprise you or should this be no cause for concern?